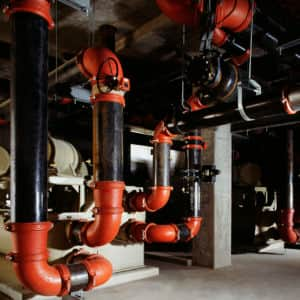 Next Plumbing and Hydronics Supply is continuing to build their presence by substantially expanding their product offering. Effective March 1, 2022, NEXT will start shipping Victaulic's comprehensive line of mechanical pipe joining & flow control solutions.
"Our customers are familiar with and want this product line – so we are extremely excited to now be able to offer this important industry-leading brand to them", says Michael Storfer, CEO at NEXT. "It is our ability to service all our customers with on-time and rush deliveries that already make us a stronger wholesaler. And by increasing our breadth and depth of inventory to include Victaulic, we help them get their jobs done with the products they are looking for".
NEXT Supply is a leading wholesaler with 11 fully stocked warehouse locations across the GTA and a full fleet of trucks that delivers to all major hubs in southern Ontario. Committing to having a complete inventory of Victaulic in all their locations aligns with their strong value proposition. Next Supply has experienced and knowledgeable people that are available to support on all product lines and can assist from technical support and customer service to quotations and project management.
"The addition of this product line will enable us to find new solutions for our customers, and increase our presence in the commercial, industrial and hi rise markets. We believe in being integral to our customers, coworkers and community, so when customers need something, they can have peace of mind knowing they will get it." Storfer reinforces.
To stay in the know, subscribe below, at nextsupply.ca
Victaulic is the originator of the grooved pipe couplings joining system for all complex piping applications. They are known for their dedication to designing, developing, and manufacturing quality and innovative products, servicing industries ranging from commercial building to oil and gas and mining to power generation and water treatment since 1919.
For more information, visit victaulic.com