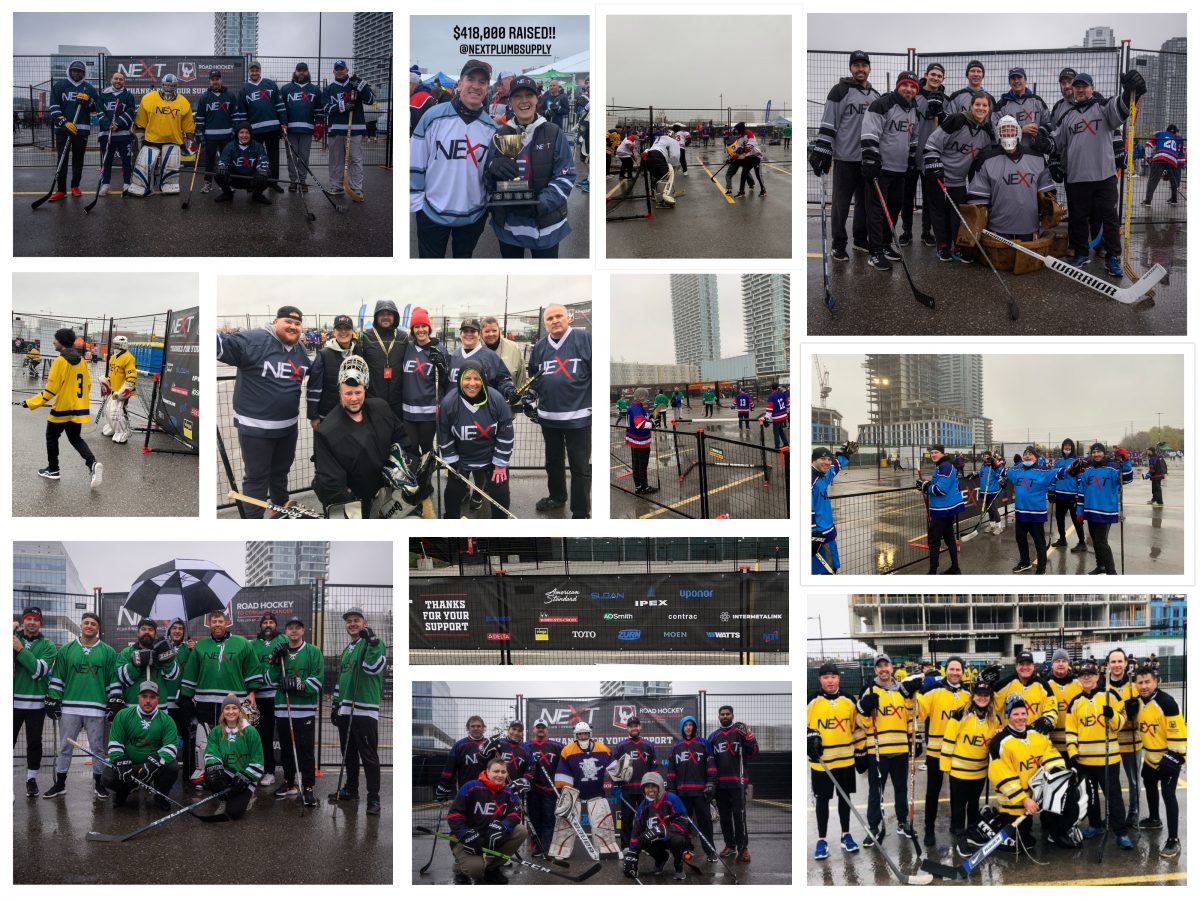 The 10th annual Road Hockey to Conquer Cancer happened on Saturday October 30 raising an astounding $2.033 Million in support of the Princess Margaret Cancer Centre. Organizers charted a path through the pandemic to successfully host the first live, in-person fundraising event. Despite some nervousness and it being a cold, wet day - it was a huge success with a turnout of 115 teams (about 1400 players). Clearly, this event resonates with our greater community in a very important way sending a clear message to help the mission to Conquer Cancer in our Lifetime.
Next Plumbing and Hydronics Supply is proud to have been a part of this historic day. They have once again stepped up their commitment to bring their community together and make a significant impact.  NEXT Supply was awarded the Corporate Challenge Cup for contributing the most funds. Through generous support from staff, friends & family, industry, customers, vendor sponsorship and fundraising events, they are pleased to have delivered over $420,000. Another incentive to raise money was knowing that the top fundraising teams in the tournament had a chance to draft a celebrity that would play and hang out with the team all day. Incredibly, NEXT had 4 teams that realized that dream and drafted: Ken Reid, Jeremy Roenick, Carlo Coliacavo and Laura Fortino. What a incredible experience for all!
There are 1 in 2 odds of being affected by Cancer in Canada. This event supports The Princess Margaret, which is the largest comprehensive cancer centre in Canada and one of the top five cancer research centres in the world. "We believe in being integral to our customers, coworkers and community" says Michael Storfer, CEO, "and events like this are the perfect opportunity to engage employees, foster teamwork, have a ton of fun - AND be able to give back to this vital cause that has impacted so many of us".
Everyone walks away with a significant sense of pride. NEXT Supply has already committed, along with many customers and vendors, to next year – and looks forward to being part of setting a new World Record on game day in 2022. #GAMEONCANCER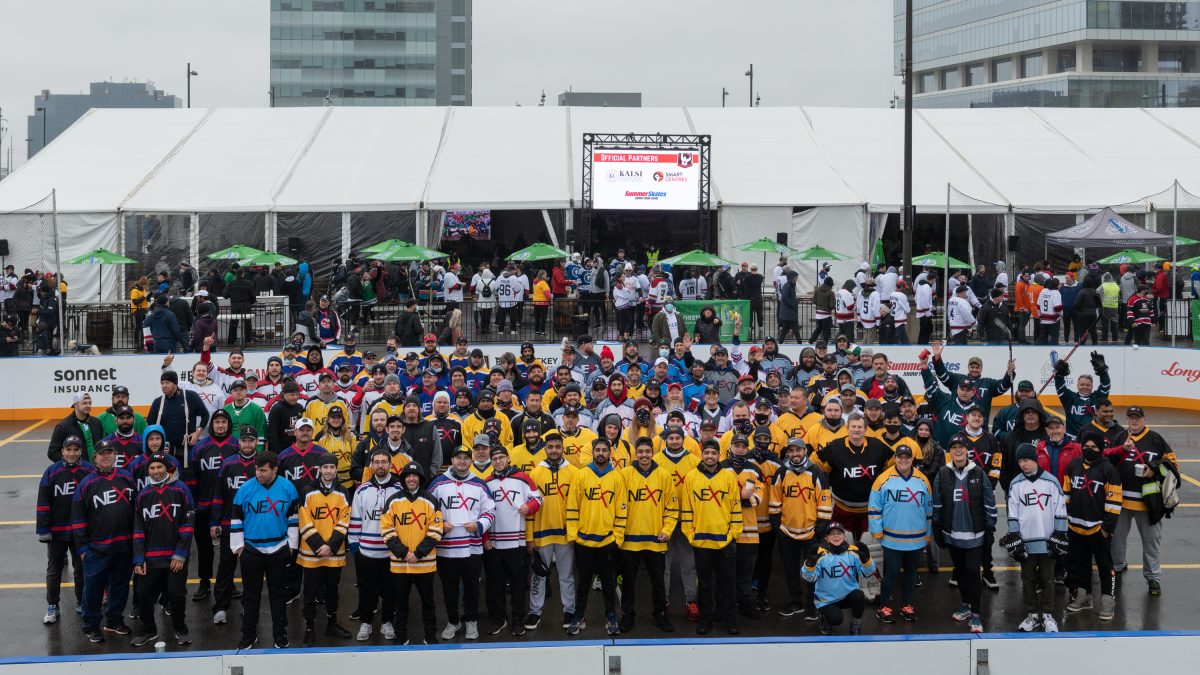 Watch the 2021 highlights here: www.youtube.com/watch?v=pWD66iK1E64
For more information or to donate to the event, visit www.roadhockeytoconquercancer.ca
And to learn more about the impact, visit www.theprincessmargaret.ca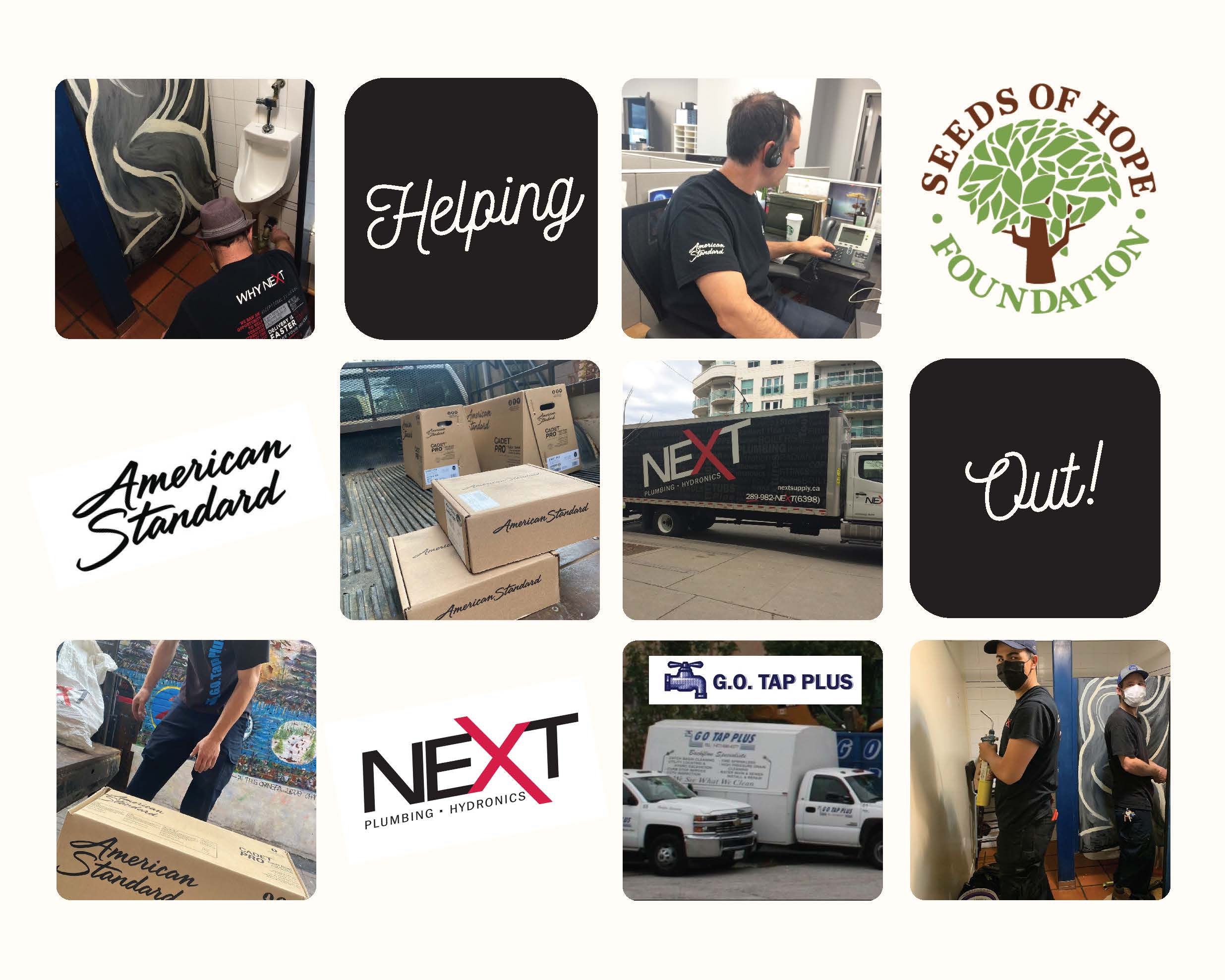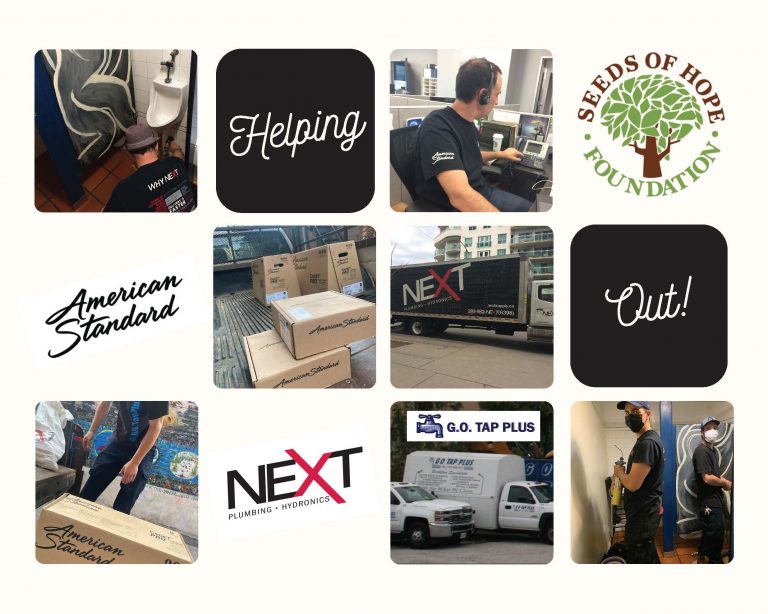 ST JOSEPH HOUSE IN TORONTO GETS A MASSIVE FIXTURE UPGRADE THANKS TO BUSINESSES WORKING TOGETHER.
If you know Next Supply, you know that we are fiercely driven by our core values of being Integral to Customers, Coworkers and Community! So, while we have kept all operations open with a strong commitment to service & full inventory for all customers and maintained a safe & supportive environment for our staff, we have also been working with those in the community that have been hardest hit by the pandemic.
NEXT has been assisting Seeds of Hope Foundation who helps people at the crossroads of their lives, since March 2020. We have delivered over 500 survival kits to encampments, donated clothing & gift cards, facilitated movement and storage of many pallets of bottled water, frozen foods and packaged meals, as well as our coworkers making & delivering almost 15,000 sandwiches.
St Joseph House is one of a few establishments in Toronto run by the Seeds of Hope Foundation. It is an older building, at 6 St Joseph St and described as a compassionate place of friendship where volunteers help people who are taking a step up from livelihood challenges and connecting them to a home and a community of people ready to help. While there, we noticed an opportunity to help with their plumbing issues (of course!). Because of Covid, the building was closed to clients and a good time to replace their old, broken, inefficient, and leaking facilities.
We received strong support from American Standard who kindly donated toilets, urinals, flush valves, and faucets. And earlier this week, 2 competent technicians from G.O. Tap Plus in Mississauga replaced and retrofitted the washrooms efficiently. By working together with other businesses who care and each doing a small part – together, we were able to make a big difference to an organization helping the most vulnerable in our community. Money that is not being spent on fixing these washrooms or paying expensive water bills can now go directly to helping those in need.
Thank you to American Standard and G.O. Tap Plus for making this happen with us! It sure feels good!
For more information: American Standard and GO Taps Plus