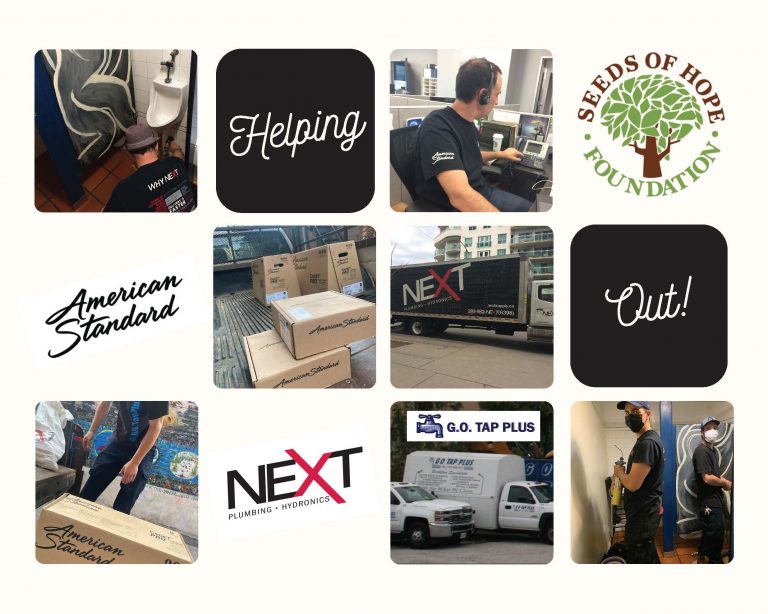 ST JOSEPH HOUSE IN TORONTO GETS A MASSIVE FIXTURE UPGRADE THANKS TO BUSINESSES WORKING TOGETHER.
If you know Next Supply, you know that we are fiercely driven by our core values of being Integral to Customers, Coworkers and Community! So, while we have kept all operations open with a strong commitment to service & full inventory for all customers and maintained a safe & supportive environment for our staff, we have also been working with those in the community that have been hardest hit by the pandemic.
NEXT has been assisting Seeds of Hope Foundation who helps people at the crossroads of their lives, since March 2020. We have delivered over 500 survival kits to encampments, donated clothing & gift cards, facilitated movement and storage of many pallets of bottled water, frozen foods and packaged meals, as well as our coworkers making & delivering almost 15,000 sandwiches.
St Joseph House is one of a few establishments in Toronto run by the Seeds of Hope Foundation. It is an older building, at 6 St Joseph St and described as a compassionate place of friendship where volunteers help people who are taking a step up from livelihood challenges and connecting them to a home and a community of people ready to help. While there, we noticed an opportunity to help with their plumbing issues (of course!). Because of Covid, the building was closed to clients and a good time to replace their old, broken, inefficient, and leaking facilities.
We received strong support from American Standard who kindly donated toilets, urinals, flush valves, and faucets. And earlier this week, 2 competent technicians from G.O. Tap Plus in Mississauga replaced and retrofitted the washrooms efficiently. By working together with other businesses who care and each doing a small part – together, we were able to make a big difference to an organization helping the most vulnerable in our community. Money that is not being spent on fixing these washrooms or paying expensive water bills can now go directly to helping those in need.
Thank you to American Standard and G.O. Tap Plus for making this happen with us! It sure feels good!
For more information: American Standard and GO Taps Plus