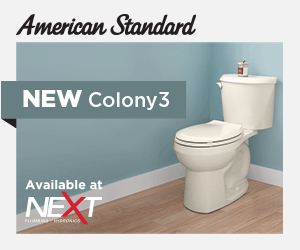 Next Plumbing and Hydronics Supply is a full stocking distributor of the entire portfolio of these NEW Colony3 two-piece toilets. This lineup from American Standard provides power, efficiency and style.
The design is engineered for savings, using 20% less water than standard toilets while maintaining impressive performance. The Colony3 toilets are NEW and offer multiple combinations with bowl options and tank types to meet your needs. They achieve optimal flushing performance with 3″ flush valve technology and are high efficiency at 1.28gpf/4.8Lpf.
This lineup of Colony3 toilets is available at any NEXT Supply location along with a wide selection of other American Standard products. Full inventory backed by our service offerings, fast delivery, a team of experts to help you – make us a stronger wholesaler choice.
Reach out today!
CALL US, ORDER ONLINE or FIND A LOCATION … click below (on website footer)